I've had the pleasure of working with numerous teachers on building sites for their classrooms.  And as a parent, I would absolutely LOVE it if my children's teachers had a blog.  I think its an incredible communication tool.  I was delighted to work with Lauren and bring her ideas to life.  Click on over and check out her site!
Lauren, Life in Middle School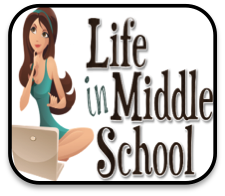 Explain the meaning behind the name of your blog.
Life in Middle School basically stands for my crazy life as a Middle School teacher. It's always a very "special" age for kids... they're not super small and cute like in elementary school, while not closing in on adulthood like High School.
How long have you been blogging? Why did you start blogging?
I've been blogging since September of 2011. I had been transferred from my Middle School, which was my home away from home. I was feeling lonely and disconnected from my teaching friends, so I reached out to the blogging community! It's been great to share and learn so many things from my online teaching friends. Luckily, I've been transferred back to my original Middle School, so I have the best of both worlds!
What do you love most blogging?
I love that blogging inspires me to go above and beyond in my classroom! There are so many ideas, tips and tricks... you can stay busy for hours changing things and improving your classroom.
What's the most surprising thing you've discovered since you began blogging?
I guess that I have followers!! (heehee!) I honestly started blogging to get some of my ideas out on "paper" and it's been just a wonderful surprise to have people follow my website. I'm still small in the "educational" blogging community, but I enjoy that there's a lot of room to grow and learn.
What is the one thing you want others to know about yourself, or your blog?
For my blog... I'd like people to know that it's an open place for ideas. I'm very open to new ideas and I love hearing from my followers!  For me? I'm a hockey fan and finally, finally FINALLY... my long suffering LA Kings have finally won the Stanley Cup! I've been playing hockey my entire life and I met my husband on the hockey rink. We're just a hockey family! :)