Before I introduce this week's Blog of the Week, I want to remind y'all that TONIGHT (Thursday) there is a contest taking place on Facebook to win a Deluxe blog design.  Make sure you hop over Munchkin Land Designs Facebook Page at 7:00pm (MST) to play.
Without further ado….
Mandy, Mommy Musings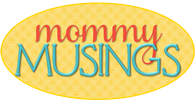 Explain the meaning behind the name of your blog.
My blog title Mommy Musings just means that I'm here to talk about the random tidbits I've discovered as a mom!
How long have you been blogging? Why did you start blogging?
I started blogging back in January 2009. I was a brand spankin' new mom who really didn't know what she was doing. I started blogging both as a record keeper of my baby girl, as well as a way to meet other new moms.
What do you love most blogging?
I love the fact that I have a record of both my girls. I am *terrible* at keeping a baby book, so I love that I can look back on their infant hood, complete with pictures and silly stories about them!
What's the most surprising thing you've discovered since you began blogging?
I have been most surprised by the conections I've made while blogging. I am closer with some of my internet friends than I am with some of my real life friends!
What is the one thing you want others to know about yourself, or your blog?
I'm definitely not the most crafty, well-dressed, or most-together mom you'll meet, but I'm doing the best I can...just like most of you!