This week I get to introduce you to Jen from Juanita's Cocina!  We had an absolute blast with her design!  I loved the vibrant colors, the glitter, the salsa feel.  It was a blast!  And Jen was one of the nicest clients to work with too.  Click on over and check out her site!
Jen, Juanita's Cocina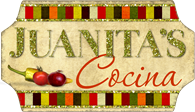 Explain the meaning behind the name of your blog.
Juanita's Cocina is a blend of my humor and heritage. My real name is Jen. When I was younger, I wanted to have a Spanish translation for my name. But, my father told me that there was no true translation for "Jen". He said the closest translation would be, "Juanita". I hated the name Juanita, because I thought it sounded ugly.

When I started my food blog, I dreamt that my blog's name was Juanita's Cocina. I thought the name was perfect...and a wonderful tribute to my father and my heritage.
How long have you been blogging? Why did you start blogging?
I've been blogging for a few years, but I only started food blogging the beginning of 2012.  I started my food blog to journal my joy of cooking, my experiments in the kitchen, and to have fun!
What do you love most blogging?
I love the relationships I've formed through blogging. This was the most surprising part of blogging. Who knew that all of these anonymous people on the internet would become friends and confidants?
What's the most surprising thing you've discovered since you began blogging?
The blogging community is very supportive of one another. I love the camaraderie. It was quite unexpected for me to discover how much people support and friend one another.
What is the one thing you want others to know about yourself, or your blog?
I love hearing from readers. It's my favorite part of blogging!