I'm excited to introduce this weeks, Blog of the Week.  This is Audra from A Little Bit of Rain.  And her precious daughter, Emerson, just made a special announcement earlier this week.  Hop on over and give her your congrats!
Audra, A Little Bit of Rain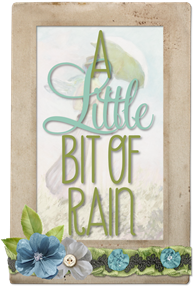 How long have you been blogging? Why did you start blogging?
I started blogging about one month after we lost our son, Jack. It started as an outlet to process my grief, and has evolved into a mommy/parenting/lifestyle blog with a little humor mixed in ;-)
What do you love most blogging?
Getting to process all of my random thoughts and sharing my favorite things and discoveries with my blog readers.
What's the most surprising thing you've discovered since you began blogging?
How far-reaching the blog world is. I've made several "friends" through blogging and it's so awesome to find new blogs that become my daily reads. I read blogs as my source of news now! (Sad, but true!)
What is the one thing you want others to know about yourself, or your blog?
I love knowing that my blog has helped people who have experienced a similar type of grief, or any kind of parenting struggle. Stop by and visit so I can stalk your blog too! :)