Its that time of the week again…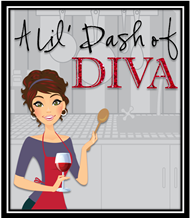 Chrissy, A Lil Dash of Diva
Explain the meaning behind the name of your blog.
I'm a SAHM with A Lil Dash of Diva!
How long have you been blogging?  Why did you start blogging?
I started my blog in 2008 and posted sporadically at best til 2010, took a few breaks and have been back to almost daily posts since the middle of 2011.
I originally started my blog as a way to document my daughters milestones for our family who doesn't live near us.  It morphed into something more for me to have a connection to the outside world. 
What do you love most blogging?
The community.  I have made amazing friends through the blogging community and I am so grateful for that unexpected blessing.
What's the most surprising thing you've discovered since you began blogging?
I think something that surprises me most is the competitive nature of some bloggers! lol  There is plenty of space for us all in the blogging community but it can be hard to find your niche.
What is the one thing you want others to know about yourself, or your blog?
I'm just me.  I can't be anything else and I try my hardest to stay true to who I am inside and not let all the other stuff bother me.