I'm happy to introduce y'all to this week's Blog of the Week.  She's currently wrapped up in her gorgeous newborn baby, so go check them out!
Leah, The Imperfect Momma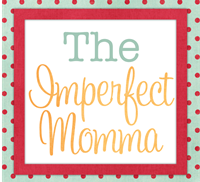 Explain the meaning behind the name of your blog.
I read a quote several years ago along the lines of "I try to be the perfect mother, but I'm too busy raising my children." and it never really made complete sense until I became a mom. I want so much to be "perfect" for my kids, but often it is so much more important just to be mom.
How long have you been blogging?  Why did you start blogging?
I started blogging (if you want to call it that) in December of 2009 after my daughter was born. I wanted to keep a journal of her life better and blogging seemed like the perfect way. Over time, it has evolved much more into my journal and outlet than the baby book I originally intended it to be.
What do you love most blogging?
There is such an amazing community in blogging. If you need a question answered, or support, my blog friends are always there! Actually, some of my very best friends I met through the internet world.
What's the most surprising thing you've discovered since you began blogging? 
On the flip side of the support blogging offers, it is also a very judgmental world. Many bloggers (myself included sometimes) are quick to point fingers and judge others by what they portray online which can also lead to a not so appealing atmosphere occasionally.
What is the one thing you want others to know about yourself, or your blog?
I love to meet new people! Blogging has been such a wealth of knowledge and quality friendships for me, and I love to meet new people and learn from them as well.