I've mentioned before that one of the greatest things of my job is getting to work with some amazing women.  I'm in awe almost every day as I get to know another client, her story, her passions, what drives her.  Really.  Women, as a gender, are an amazing group of people and I feel honored that I get to work with you all. 
Now I get to share their stories with you!
Every week I'm going to highlight the blog of a woman whose blog I've designed.  I get to share a small snapshot into the woman behind the blog, and hopefully you'll find a few new blogs to add to your reading list.  I'm going to do this every Thursday or Friday, so be sure to check back every week. 
Without further ado, Munchkin Land Designs first 'Blog of the Week' feature.
----------------------------------------------------------------------------------
Bunnie, My Life Comes With Fine Print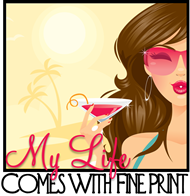 Explain the meaning behind the name of your blog.
My life has details no one knows or sees, stuff floating through my head that cannot be expressed unless on paper *the fine print....Never overlook the fine print. You never know what you are going to get with me :)
How long have you been blogging?  Why did you start blogging?
I started blogging a few years ago in 2010. I have always been a person who couldn't really express how I felt or talk about certain feelings and when I realized that I can keep sort of an online diary I couldn't help but let the keyboard go crazy.
What do you love most blogging?
I love all the great people I have met in the blog world and to see how many people are out there that have the same feelings as me. Enjoy the same things out of life that I do and can relate to almost every feeling in my life.
What's the most surprising thing you've discovered since you began blogging?
How many people blog and how much is out there that I haven't thought of or looked into. Such as stores, news clips, recipes and wonderful pictures.
What is the one thing you want others to know about yourself, or your blog?
I love my LIFE :) I love my future even though it is not here. I am a hopeless romantic, I dream like no other and love unconditionally...Whether its sitting in the coffee shop in flip flops or driving into the sunset life never seizes to amaze me...I take everyday as it comes at me and never hold anything back.
----------------------------------------------------------------------------------
If you've had a design done by Munchkin Land Designs and are interested in be featured in the Blog of the Week, please send me an email.  We'll get you added to the schedule.